Southern California
Rail Travel Meetup Group

Above photos of Southern California Rail Travel Meetup courtesy of Carl Morrison.
SoCal Rail Travel Meetup Group
Annual Christmas Party and
TrainWeb 20th Anniversary Party!
Who May Attend? Everyone who is a fan of TrainWeb or Rail Travel or Both!
When: Monday, December 5, 2016, 6 PM to 8 PM
(Mingling and free appetizers 5pm to 6pm;
OK to arrive anytime before 6pm)
Where: The Old Spaghetti Factory, 110 E. Santa Fe, Fullerton, CA
Price: $5 per person (excluding alcoholic beverages)
TrainWeb will be picking up the rest of the cost
this year in celebration of its 20th Anniversary!
The SoCal Rail Travel Meetup Group Annual Christmas Party will be held on Monday, December 5, 2015, 5pm-8pm, at The Old Spaghetti Factory (where we have had the Christmas Party for the past few years).
Free appetizers and soft drinks will be available starting at 5pm but the actual event and dinner does not officially start until 6pm. So, even if you can't arrive until 6pm, please RSVP and come anyway! You won't miss anything other than maybe the free appetizers and some pre-party mingling.
Because this party is also celebrating the 20th Anniversary of TrainWeb, founded in 1996, the cost will only be $5 per person attending. TrainWeb will pick up the rest of the cost of this event. (Alcoholic beverages not included, but may be purchased at the event.)
This is the biggest event each year for the SoCal Rail Travel Meetup Group and we expect this to be one of the biggest since it is also the 20th Anniversary of TrainWeb! Where we only have about a dozen or so that show up for our monthly meetups and rail outings, we have filled the room at each annual Christmas Party. This year we are setting aside space for 100 attendees expecting that a good portion of the 400 members of this Meetup group, along with their family and friends, will attend this TrainWeb 20th Anniversary Party.
The menu selections will be the same as the prior year with appetizers served when you arrive before the sit down dinner. As mentioned above, the cost of the meal will be only $5 per person in advance which will also include the appetizers, soft drinks, iced tea or coffee, and Spumoni ice cream for dessert. Wine, beer, or cocktails will be extra that you can pay for to your server when you order at the event. If you wait to pay at the door, the cost will be $10 per person. Paying in advance really helps us to confirm the count for the restaurant and is greatly appreciated. The sooner you RSVP the easier it will be for us to finalize the plans for the event!
Come early to join us in the bar at 5:00 PM for a drink and to mingle before dinner. Unlike prior years, the Spaghetti Factory is now open all day so it is OK to come early. We won't be locked out until 5:00 PM as we had been in prior years.
Appetizers served at 5:00 PM:
Sicilian Garlic Cheese Bread: A generous portion of fresh baked bread topped with a tasty blend of garlic and three melted cheese served toasted with a side of marinara sauce. Also Shrimp, Spinach & Artichoke Dip: A hot cheesy blend of Bay Shrimp, spinach and artichoke hearts sauteed with brandy, cream, fresh herbs and Romano cheese. Service with toasted rustic bread.
The meal choices will be as follows:
1. Spaghetti w/Marinara or Alfredo: Fresh onions and garlic simmered with diced tomatoes, red wine and Italian seasonings.
2. Meat Lovers Treat: Sicillian meatballs, Italian sausage, and spaghetti with rich meat sauce.
3. Chicken Marsala: A seasoned breast of all natural chicken with a mushroom and Marsala wine sauce, alongside spaghetti with Mizithra cheese & brown butter.
You will be asked for your selection when you RSVP. Be sure to mention the meal choice for each person in your party.
Each meal will start off with a crisp salad and fresh baked bread and finish off with their signature spumoni ice cream for desert.
Payments will be fully refundable until about a week before the event. Online payments can be by Mastercard, VISA, or American Express. If you wish to use PayPal, use your PayPal Credit Card or PayPal Debit Card. If you want to pay by check, mail it to: Stephen Grande, 5753 E. Santa Ana Canyon Road G-621, Anaheim, CA 92807. If you mail in a check, please be sure to provide me with your full name and your meetup.com ID or email address so I can credit the proper account. I'll set your RSVP to YES as soon as I have received your payment.
We are all looking forward to seeing you at the party!
Note: If you are NOT a member of Meetup.com, you will not be able to RSVP by clicking on the above link. To RSVP, send an email to me at steve @ trainweb.com with the names of the people in your party along with their meal selections from the above list (Spaghetti, Meat Lovers Treat, or Chicken Marsala). You can either use PayPal to send $5 for each member of your party to steve @ trainweb.com, or you can mail a check to Steve Grande, 5753 E Santa Ana Canyon Rd G-621, Anaheim, CA 92807. I'll send you an email confirmation once I have received your RSVP and payment. A room has been reserved that can accommodate up to 100 people, double our usual annual Christmas Party attendance of 50, as we are expecting more will be attending this 20th Anniversary of TrainWeb. We are looking forward to seeing you there!
---
---
Rail Travel Meetups:
4th Monday Each Month, 5:00PM-6:45PM,
Joe's No Limits Restaurant, Downtown Fullerton,
128 W Commonwealth Ave, Fullerton, CA 92832, 714-879-2600
(Optionally after the Meetup at about 6:30pm you are welcome to join other attendees who like to head to the Fullerton Santa Fe Depot to await the arrival of the eastbound Amtrak Southwest Chief for Chicago. That train arrives into Fullerton about 6:45pm and departs at 6:50pm.)
The Monthly Rail Travel Meetup is usually held on the fourth Monday of each month from 5:00 PM until about 6:45 PM. If you need a little more time to get the Meetup from work, don't worry if you can't get there until 5:30 PM or so.
Sometimes there will be an optional Meetup Group Rail Outing. These are usually Amtrak or Metrolink trips that will start in the morning and end in the afternoon or early evening of the same day. Information about any upcoming rail trips can be found at the Rail Travel Meetup Group website at Meetup.com/rtmeetup.
CLICK HERE for more information or to RSVP for the next Meetup or Rail Outing.
---
---
---
Upcoming Rail Travel Outings: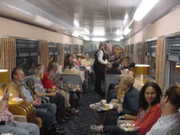 Future Santa Barbara Vino Train Trips
---
What is the Rail Travel Meetup Group?
The Rail Travel Meetup Group is not a passenger rail advocacy group nor a nuts & bolts railfan group. We are just a bunch of people that like to get together and discuss our rail travel experiences in a relaxed atmosphere over some food and drinks! If you like to travel by rail, or are interested in getting started in rail travel, then you should come to our Meetup! If you have questions about travel on Amtrak, VIA Rail Canada, or on most other excursion and tourist railways, bring your questions to the Meetup. Someone will probably have answers to your questions!
There are no application forms and no dues. This is a "no pressure" Meetup without speakers or any set agenda. We'll just be talking about wherever the conversations take us, though we will try our best to keep the topic on rail travel! Just show up on the 4th Monday of each month at 5:30pm whenever it fits your schedule. Some of us are there at almost every Meetup!
Each Meetup will end around 6:30pm. You are welcome to join some of the members who like to wander over to the Fullerton Amtrak Station after the Meetup to watch the arrival and departure of the eastbound Amtrak Southwest Chief. What a great way to end the evening!
Come to the Meetup by rail!
Fullerton has extensive rail and bus service. You can get to Downtown Fullerton from many parts of Orange, Los Angeles, San Diego, Riverside, San Bernardino and Ventura Counties by either Amtrak or Metrolink trains, or in combination with other public transit rail and bus systems. Numerous OCTA bus routes also serve Downtown Fullerton. For exact schedules and routes, visit Amtrak.com, MetrolinkTrains.com, and www.OCTA.net
If you would like to find out more about the Rail Travel Meetup Group and some of its members, click here to go to the Rail Travel Meetup Group website. Although not required in order to attend the Meetups, you can "officially" join the "Rail Travel Meetup Group" at the above link and will then be able to let the rest of the group know more about yourself and will be kept informed about group activities and members.
---
Photos & Stories From Prior Meetups and Rail Outings:

Photos are still being posted of our Meetups and Rail Outings, but now those photos are being
posted directly to the Rail Travel Meetup Group Photo Albums. Click here to view those albums.

Photos by Cathy & Mary Stanfill: 12/22/08 Christmas Party / 11/24/08 Meetup

Photos & Stores From More Prior Meetups and Rail Outings: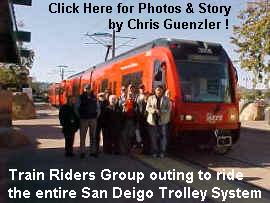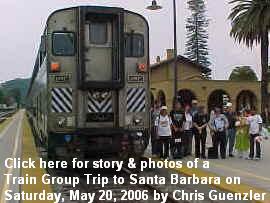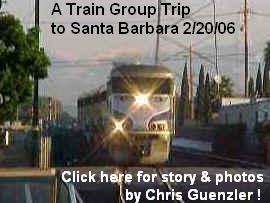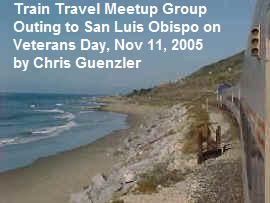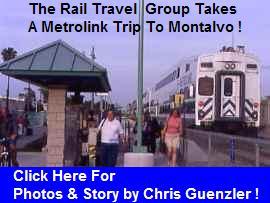 ---
After the October 24, 2005, Meetup, we all went to the Fullerton Santa Fe Depot to greet Amtrak President David Gunn as he arrived in the Amtrak corporate car on the tail of the eastbound Amtrak Southwest Chief. People at the event included: Ken Ruben, Chris Parker, Harold Penensen, Dan Dalke, William Puhl, Mary Pearl Puhl, Stephen Grande, Ray Burns, Margaret Monroe, Daniel Monroe, Pat Moran, L.R. Smithline, Chris Guenzler, Winston W. Walker, Art Tomlin, and Ross Moore, Jr.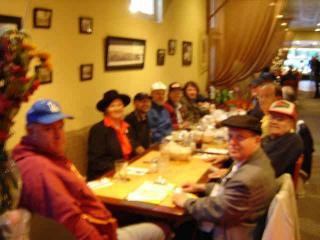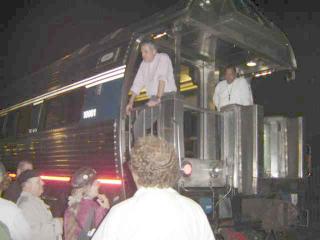 Click each of the above images for larger photos from that Oct 24, 2005 OC Train Travel Meetup.
---
Chris Guenzler: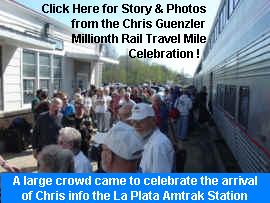 April 07, 2008 - Chris Reaches 1,000,000 Amtrak Rail Travel Miles
April 27, 2007 - Chris Reaches 1,000,000 Rail Travel Miles Overall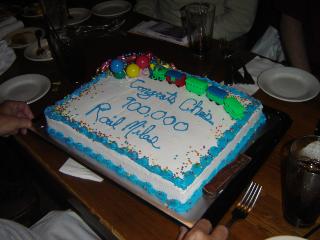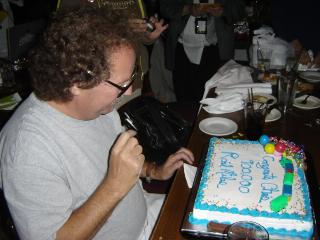 Click here for photos from the November 29, 2005 Meetup
where we celebrated Chris having completed 900,000 rail travel miles.

Click here for Chris related newspaper articles.
Click here for Chris's own website of rail travel photos and stories.
Click below for pages in the directory of TrainWeb sites: